22
Jan
2012
by
unexcusedabsences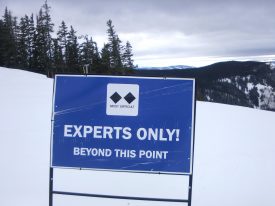 Beaver Creek Resort. We are back, just over one year later, to the location of our original Unexcused Absence. Much like last winter, Kent works in the Race Department and teaches skiing during peak times or when clients request him.  Heather also works as a ski instructor while training for her PSIA (Professional Ski Instructors of America) Level 2 certification. On days off, we ski!
We feel fortunate to continue our rather self-centered lifestyle for at least a few more months. We constantly discuss how to navigate modern life with its costs and responsibilities while spiritually maintaining our Unexcused Absence lifestyle — unchartered territory for us!
We're currently ensconced in a cozy condo right in the heart of Avon which looks out directly at the slopes. With little snowfall during the month prior to our arrival, we feel we can certainly take credit for the three storms which have brought snow since our arrival.
We still have lots more to say about our trip to South Africa, and will be posting more on that during the next few weeks.
For now, we wanted to let folks know that we're currently based out of Beaver Creek, that it's snowing, and that we're looking forward to seeing both our visitors and our old friends over the course of the winter.