Global Changes (she said)
by
Heather
25
Nov
2013
I first visited Tahiti in 2004. On this recent trip, I noticed the changes that occurred in the nine years between trips. I found some changes unsurprising, but sometimes I found a lack of change even more surprising.
Unsurprisingly, Tahiti's communication infrastructure improved. On my first trip, I proudly toted around my BlackBerry 8830 World Edition. Approximately 90% of the places we visited did not have voice coverage; we had reception only in anchorages near large towns. Now, mobile phones enjoy near universal coverage. In 2004, we visited internet cafes. Now, an enterprising company broadcasts wifi (expensive) in resorts, popular anchorages and at the airport. And, instead of paying exorbitant roaming rates, I purchased a $20 SIM chip and popped it into my phone. Voilà! I had a local number.
After getting my local phone number, I received a local text. Clearly, news hadn't spread about the previous owner's phone number change. I interpreted the half Tahitian half French message as a request to send some sort of phone number, an outpouring of hugs and kisses, and a request for a copy of a recently completed genealogy. Readers?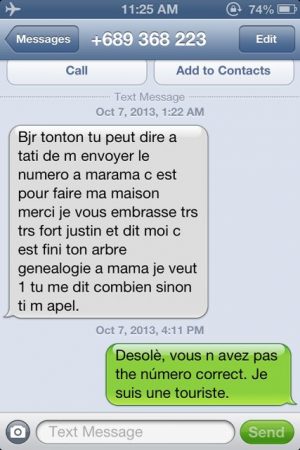 I began my response with desolè, a typo of désoleé, my written French clearly substandard. I suspected my reply sounded like, Sori, you do not have the just number. I am tourist. The technology may have improved … but communications still weren't perfect!
The opening of a weather window provided the opportunity for an itinerary change and the chance to visit the island of Maupiti. Tourists rarely visit this remote island with its notoriously treacherous entrance pass from the sea. Typically, no more than a few sailing boats anchor in the lagoon any one time and the island's accommodations are limited to one or two guest houses. Older travelers say Maupiti resembles Bora Bora 40 years ago. As I strolled through the single, small village square, mentally soaking up the French Polynesia of yesteryear, I spied young girl riding an ancient bicycle, her bright pink iPad case peeking out of the bike's rusty basket.

Unsurprisingly, animals still run wild. While on Bora Bora, an unusual pair, Pig and Dog, caught my eye one morning. Exiting their yard, they crossed the street to a strip mall, making their way up the stairs to the sporting goods store and admiring the row of shiny new children's bicycles parked on the terrace. Soon, mischievous Pig began to gnaw on the bicycle tires. Dog encouraged him by barking and wagging his tail. When Pig knocked over a bicycle, the entire row fell like noisy dominos. Pig squealed, Dog yelped and the two naughty animals made their way home before the store keeper could rush outside.
With the talk of climate change, pollution, and heavy tourist use, I expected the delicate undersea life in my favorite snorkel spot to be devastated. I was wrong! The healthy coral sheltered hundreds of fish and bizarre creatures. The first dive proved a little too amazing when two 5+ foot moray eels swam out of their rocky lairs, passing within a few feet of us! The whole crew of s/v Curie enthusiastically celebrated the continued health of the undersea environment.
I saw lots of evidence of changes due to world's continuing recession. During the prior boom, developers constructed thousands of the overwater bungalows popular with tourists. Now, many sit empty, slowly decaying over the sea. I witnessed empty storefronts and stores with sad, dusty, old merchandise. Although these economic challenges are new to this generation of Tahitians, it's a pattern repeated over and over in tourist locations – boom and construction followed by bust and abandonment.
I've changed, too. I can now speak passable French in a casual conversation (although my spelling remains hopeless), and my years of working in real estate have eased my natural shyness. It's now easy for me to strike up a conversation with locals while I'm shopping or wandering around on shore. That's definitely a change for the better.
Best of all, the natural beauty of the islands and the genuine warmth of the Polynesian culture remain unchanged. Luminescent turquoise water, so bright it seems lit from below, rings sharp peaks covered with lush vegetation. Communications may be upgraded, but residents of remote Tahitian islands still take the time to say Ia Orana to friends and strangers alike.