The United Airlines customer "experience" (he said)
by
Kent
6
Dec
2012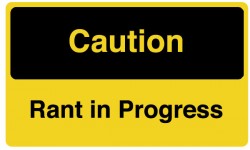 I normally don't use this space for rants, but our United Airlines customer "experience" was so, um, rant-worthy during our recent trip to Beaver Creek that I feel compelled to share.
Before I recount my complete customer "experience," I need to say a few words about the very idea of the customer "experience."  Have you noticed that every restaurant, store, and service company these days is intent on creating a customer "experience?" In the old days, a business just had "customers" (or "guests" for the more highfalutin, take-themselves-way-too-seriously companies) and sold "products" or "services." But ever since some rocket scientist MBA came up with the idea that businesses needed to create an "experience" for their customers, things have begun to spiral out of control. Somehow management imagines that they can make a trip to the organic aisle of the grocery store an "experience" akin to an actual experience like dropping anchor in a remote harbor in the South Pacific. I'm clearly out of touch with the times, since my ideal "experience" with any business is to get in, get my product/service at a reasonable price, and get out. Ha!
Our "experience" with United Airlines started out well enough, we actually achieved the almost impossible feat of securing frequent flier award tickets from DC to the Vail airport – not an easy task, considering the entire airline industry is specifically aligned to prevent people from actually cashing in their frequent flier points on actual flights to actual fun places to go. But getting booked was by far the best part of the "experience." And right up until we tried to electronically check-in to our flight and print boarding passes, all was well. And then we looked closely at our new, heretofore unbeknownst to us, itinerary. No warning email, no phone call, not even a text message. We just stood in awe, staring at a strange itinerary.
We originally booked a morning flight out of DC so we could arrive in Colorado by early afternoon, which would give us time to shop for groceries, get our gear organized, and have a good night's sleep before showing up for our oh-dark-thirty morning appointment on the hill to begin our volunteer session for the Birds of Prey World Cup. Yet the friendly online check-in "experience" was now telling us that we had a six hour layover in Denver, and would not arrive in Vail until 7:30pm. Ok, fine, they canceled our original Denver-to-Vail flight without informing us, probably because the plane wasn't full enough, and I understand that happens in these days of high fuel prices. But why subject us to a six hour wait in Denver, when United flights leave IAD for DEN every 2-3 hours? I guess they wanted us to give us a nice long "experience" in the Denver airport departure area. So we called the United Airlines customer "experience" number and were told by the very earnest recording that we were their most valuable customers ever and that they wanted us to have the best possible "experience" while we waited for the actual person who would maybe actually try to solve the problem.
The good news in all this was that we were able to get seats on the same flight as my Dad, who was also joining us in Beaver Creek to volunteer for the World Cup. Once we arrived at the Vail airport and walked up to the baggage claim "experience," though, we "experienced" a long wait while all the other passengers' bags came out the little conveyor belt. A quick visit to the baggage customer service office informed us that while Dad's bag had in fact been sent to a ski area in Colorado, it was sent to the wrong ski area in Colorado, and was now patiently waiting for him in Steamboat Springs, a three hour drive to the north. Incidentally, it is also not United Airlines policy to return the baggage fee when bags go missing, certainly a negative "experience" in my book. I guess Dad would be skiing tomorrow in jeans, 1970's style (hint: always take your ski boots as a carry-on, which fortunately he did).
Although we were now too late to catch the bus into town, luckily our friends Susan and Greg were free that evening, and came to pick us up at the airport. We had to choreograph a carefully executed "experience" through the grocery store in Avon, since it was closing in 15 minutes and we were going to spend dawn-to-dusk on the ski hill the following day, so if we wanted such things as food (we wanted to eat – imagine!), we needed to stock up now. Mission accomplished, we found our condo, unpacked, and settled in for a fantastic 12 days of World Cup skiing activity. And Dad's bag was delivered to our condo the next day.
And then we went to check in for our flight home. Dad had left two days before, so it was just the two of us at the United Airlines customer "experience" counter at the Vail airport. The nice woman at the computer was alternately staring at our itinerary, tapping keys on her keyboard, and scowling. "Well, they seem to have moved some flights around," she said. "But somehow they've got you both in the same seat on your flight from Denver to DC."  More tapping of keys, and then, "oh, they've put you on different flights!" Rebooked with no warning – again! Apparently United Airlines' idea of a good customer "experience" was to put traveling companions on different cross-country flights. I guess they really wanted both of us to "experience" seat 10A, so rather than disappoint by making one of us sit in, say, seat 10B, they just put us on different flights. Problem solved!
Of course the fact that my Dad would have to make two separate trips, two and a half hours apart, to Dulles Airport to pick us up wasn't going to stand in the way of them crafting a special solo cross-country "experience" for us. And that one of us would have a manageable two-hour layover in Denver while the other "experienced" a five-hour wait also apparently didn't cross their minds. Fortunately, with several more minutes of furious tapping the nice woman was able to put us both on the same flight and sit us in adjacent seats. Finally, an "experience" I could endorse.
I made a comment about how supposedly "modern" technology had managed to put us on different flights, and the nice woman said, "oh, no, it's not modern, it's DOS-based." "Look at it," she said, "it looks like that game, Oregon Trail, that I played on an Apple II in elementary school." She even had me come around the counter and look at the glowing green letters on the black screen. Flashing back to "Wargames" and "Weird Science" and all those 1980's movies with DOS-based computers, I looked at her in amazement, fascinated that any company would still be using DOS, much less that you could even buy a computer that ran DOS these days (sidebar for younger readers; DOS was the Disk Operating System created by Microsoft in the early 1980's, which has been obsolete – except apparently at United Airlines – since the mid 1990's). The more I thought about it, though, perhaps their using DOS was because Microsoft had decided to make the Windows OS an "experience," with fancy animations and dancing paper clips, rather than just a computer operating system. So maybe United's IT department wasn't so dumb after all!
Of course the fact that we had spent 35 minutes at the counter meant that the plane was now boarding, and we failed to properly "experience" the ambiance of the Vail airport, instead rushing through security and double-timing it to our departure gate. And from there, other than a long layover in Denver, the flight home was without incident.
So to recap our United Airlines customer "experience," the executive summary:
They canceled our original flight into Vail without telling us and without re-booking our first flight to give us an acceptable layover in Denver.
They sent Dad's checked bag to Steamboat (admittedly, also a ski area) instead of Vail.
Without telling us, they canceled our original return flight and put Heather and me on

different flights (!)

from Denver to DC.
Ok, rant over, back to the Unexcused Absence!
But before I go, I thought I'd share a great viral video about a musician's experience on United Airlines!