A Commercial Waterway (he said)
by
Kent
29
Sep
2011
We have been traveling northward on the Yonne River for about a week now, ever since Auxerre. Yesterday, though, once we left the large town of Sens, we started to encounter commercial barges hauling bulk goods (sand, gravel, corn).  The locks have also gotten much bigger. These newer locks (dating from 1872) measure 90m by 8m (rather than 38m x 5m as we've been used to up to now in our France travels) and accomodate modern, commercial barge traffic.
Below I have a quick time lapse video (about an hour and a half compressed to 40 seconds) of a commercial barge receiving a load of gravel and sand at Pont-sur-Yonne before heading downstream toward the Seine. It's neat to see the barge settle in the water as the cargo fills the hold.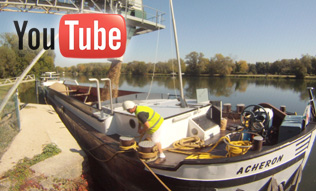 The locks will be even bigger when we arrive on the Seine River tomorrow!  We won't be long on the Seine however, as we will turn after 10 kilometers onto the Canal du Loing, heading south towards the wine region around Briare and Sancerre.