Feu Artifice (Fireworks, he said)
by
Kent
15
Jul
2011
The Chinese invented fireworks (or so they claim). But if you've ever seen a French fireworks show, you'd know that it's the French who have perfected the presentation. And last week we were fortunate enough to witness not one, but two world-class displays.
The French really pull out the stops for their Fête Nationale (what Americans refer to as Bastille Day, the 14th of July). They actually stretch it out over two full days of military parades, jet flyovers, and fireworks. And they aren't ashamed to run fireworks a day earlier, either. Wednesday July 13 found us in a restaurant up on a cliff overlooking the town of Rocamadour, a storybook village perched on a bluff between the Lot and Dordogne river valleys. We were spending the night near there, a couple hours from our boat, having toured around the Lot valley during the day in our rental car. And in the it's-better-to-be-lucky-than-smart category (see another fine example in our 2009 trip to St. Barths where we stumbled upon a free Jimmy Buffett concert), that night was Rocamadour's fireworks display, where we saw this:
---
The French don't just shoot off shells randomly, either. They use the display to tell a grand story, although I'm not crystal clear on the plot. The show starts off with the city lights suddenly going dark, followed by a single big shell exploding high over the city. Then, there is a several minute display of beautiful fireworks, with many different themes and color patterns. Suddenly the fireworks stop as the city starts to glow red from what seem like hundreds of flares on the ground, and within 10 or 20 seconds the entire city looks like it's on fire. There is a minute or two of the city "burning", and then slowly the fireworks start up again, with small shells, and not very many of them, that slowly build to a bigger and nicer display over the next few minutes as the city lights come back on. But instead of a pause before the grand finale, the pace just keeps increasing, until you're staring in awe at the thickest display of fireworks you've ever seen.
---
The following day (Thursday, the 14th) we drove south to meet our American friends Susan and Jack on their boat in Castelnaudary, where we had been with our boat back in Week 4. We had dinner, then drove about an hour to the south-east to attempt to watch the big display at Carcassonne. Every local we asked over the past two months said we needed to treat ourselves to the Carcassonne fireworks, so we, along with 700,000 others, descended on the medieval city as daylight fell. I had done extensive research on the surrounding landscape, and had identified a back road (more of a cart path) to get us to a nice viewing area that would also let us avoid the biggest crush of traffic on the way home. There's a whole story in that adventure that I won't bore you with here, but suffice to say we made it to a nice bluff overlooking the city about two kilometers away.
---
What we saw wasn't just spectacular, it was truly jaw-dropping. The grand finale lasted over 3 minutes. I gave up trying to photograph it, there were so many shells exploding at once that my pictures came out white, so I resorted to shooting a short video clip. If you think you've ever seen an amazing fireworks display, watch this short clip to the end, and remember, it's just the final bit of over 3 minutes like this: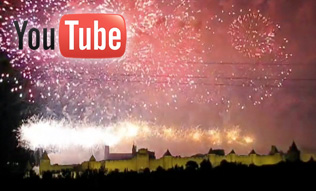 ---