Our Ship has Come In! (she said)
by
Heather
11
May
2011
We are on our boat in France. We have dreamed of owning a boat for over a decade, but it's hard to believe we own a power (not sail) boat in France (!). There have been so many plans and so much effort put into this dream, it feels surreal to finally be living it!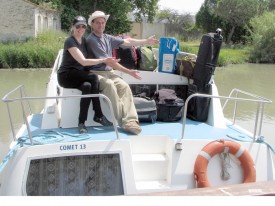 We leave Falls Church on Monday afternoon with seven pieces of luggage; only two of them hold clothing. Air France allows a maximum bag weight of 23 kg so we check three bags, weighing from 21.5 kg to 22.2 kg. They are all under the weight limit due to Kent's outstanding distribution of stuff – things like a solar panel, lumber and numerous tools – among the bags. Between these three bags and our carry-ons, we have over 200 lbs of stuff to transport from Dulles to St. Gilles, France.
We fly to the south of France, arriving around 9:30 am Tuesday morning. Leaving the airport in Montpellier, we struggle to load the 200 lbs of stuff on and off various forms of public transportation. We take a bus from the airport, change to the tram – which travels into the Montpellier historic district – and ride it to the train station. This is where we experience our only luggage-related mis-hap of the journey. As Kent maneuvers two of the ~ 50 lb bags down the stairs he looses control of one of the bags. It accelerates down the stairs straight toward a plate-glass window overlooking the train track at the bottom. In my head I clearly see the interior of a French jail while incredulous policemen ask us why we threw a bag through a window at the TGV (the French high-speed train). Miraculously, the bag bounces off the glass. Only when we drag the rest of our things down the remaining stairs do we notice the elevator. Ha! My mind flashes back to that imaginary French jail cell. It's definitely better to be lucky than smart! We board the TGV and arrive in Nimes where we walk to the bus station and catch a bus for St. Gilles. In St Gilles, we unload and make the long walk (about 500 yards) to the marina.* Success!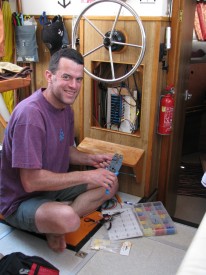 Kent starts unpacking the gear and immediately sets to work. He installs a back for the outdoor steering station seat and assembles two boxes for holding flowerpots that he made back back in Virginia. I assemble the first set of many shelves that we'll put around the boat, unpack gear, and start making lists of all the things we need to purchase.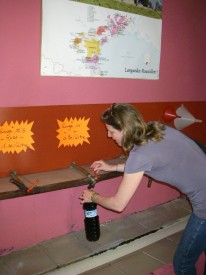 As the sun drops and the temperature cools, we clean up and stroll around town. We visit the local wine cave where we taste the offerings and then fill a recycled water bottle (that's 1.5 litres, not 750 mls like a normal wine bottle) with a tasty local merlot – for 1.10 euros a liter (that's two bottles of wine for about $2.50 US). It has none of the cloying sensation of a 2-Buck Chuck or a Rex Goliath (which we both drink regularly) or a similar table wine in the US. This would be $10 per bottle back home. The proprietor tells us, "it's table wine." I suspect he worries that we are not impressed with the quality. But we are impressed – it's a bargain!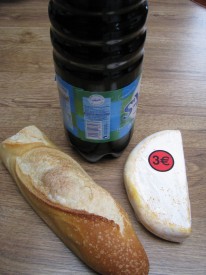 We also visit the green grocer who happens to have a chair at her cash register for her customers. St. Gilles is a small town, and the grocer's customers sit down for a chat when they check out – she is laughing with two ladies when we arrive. We get some provisions (including several excellent cheeses) and then head to The Royal Kebab for dinner (fancy name, but not much more than a hole-in-the-wall). The kebabs are spectacular; we'll be eating there again soon.
It is still light when we get back to our boat. We open our wine and take a short post-dinner cruise around the marina before tying up for the night and falling into a deep deep slumber on our boat.
*Why didn't we just rent a car in Montpellier and drive the gear to the boat? The quoted fare for a car rental was 200 euros (about $275). Our trip cost 30 euros, plus we got to ride the TGV.