A Vacation from our Vacation from Reality (he said)
by
Kent
18
Feb
2011
Last weekend we took an Unexcused Absence from our life at Beaver Creek.  We left perfectly good, free skiing to go to another fancy ski resort for some perfectly good, not-quite-free skiing.  Aspen is a very well-known resort area for the rich-and-famous, so we planned a 3-day weekend and drove the two hours to see who we might know.
First on our list of people to see were Eric and Sudi, who we met in Burgundy, France, a couple years ago.  They live part of the year on their ~80 year old canal boat, Oldtimer, and part of the year in Aspen, Colorado (editor's note: we want their life).  We all took a nice hike above the Smuggler Mine, then had a hoot-and-holler sled ride back down the trail.  We continued with dinner at the Red Onion (delicious!) and then spent Friday night at their place (thank you!).
Saturday we found our longtime friend Shep and his son Scott on Aspen Mountain, preparing for a series of NORAM downhill ski races.  We skied, watched Scott take a training run on the downhill course, skied some more, then checked into the Tyrolean Lodge (a nice room with kitchenette) and hosted Shep and Scott for a "field conditions" dinner (fettucini alfredo, Italian sausage and green peppers – yum!) cooked on a hot plate and microwave.
Sunday was basically a repeat of Saturday, except that we checked out of the Tyrolean Lodge, and got to ski with Scott and his buddy Conor after their Sunday training run but before the afternoon coaches' debrief (Scott is on the US Ski Team). And this is where this story really begins.
Lots of people ski. Some ski very well. We have seen some amazing skiers at Vail and Beaver Creek, and have taken lots of PSIA clinics from some incredibly gifted instructors this winter. Scott, however, operates at another level. It's only barely recognizable as what the rest of us know as "skiing." I now, sadly, realize that I know almost nothing about the sport I've loved for 40 years.
My first mistake, arriving at the summit, was saying to the boys, "you've only got a couple hours to free-ski, so you choose where you want to go." My second mistake was that we happened to be at the top of a big, steep, ragged mogul field.  I figured (wrongly) that since Scott was wearing brand new Atomic 191 GS race skis, and Conor was wearing brand new Rossignol 216 downhill race skis, they'd want to stick to groomed runs. Sometimes I'm just blissfully unaware of my own ignorance. Scott said, "then let's do the moguls, you go first," at which point Heather and I began demonstrating our best PSIA-approved mogul skiing technique.  I thought I was moving right along, until I was aware of a presence behind me, and I turned to see Scott about 5 feet in the air, moving downhill way too fast for what is actually possible.
Now most of you have probably seen the World Cup mogul skiers in the Olympics. They zip straight down a mogul run, their legs and knees furiously pumping, trying to beat their competitor head-to-head down the hill. Just watching them makes me exhausted. Scott and Conor, though, have a simpler technique. They don't bother to slam into each mogul. They just skip off the top of a bump, fly over the peaks of the next few, then skip again, and they do this at about 40 mph. Scott in particular makes it look about as difficult as breathing. I turned to Heather and asked in disbelief, "did they just straight-line that mogul run?"  "I think they did," came the reply, "but it was too fast to really tell what they did."
Scott and Conor patiently waited for us at the bottom, where I re-confirmed that Conor was on 216cm skis (normal humans, as well as World Cup mogul skiers, use skis that are quite a bit shorter). Then, they were off again, this time using terrain features such as gullies, ridges and hills as launching pads for various aerial exploits. At one point, we were on a medium steep, groomed gully, and a very steep mogul trail intersected our slope from above and to the right. Scott was doing over 60 mph, suddenly made a hard right turn, and then was skiing UP a mogul field, using a similar technique as before. At over 50 mph. People (mortals) on the slope stopped in their tracks and stared. He skipped off a few moguls, then hit the downhill lip of a cat-track and launched, sailing about 20 feet in the air, still traveling uphill (!). He landed, did a couple more mogul hops (still uphill), and finally came to a stop, grinning. He had traveled probably 80-100 vertical feet UP a steep mogul field.
Conor had to take off, and so we left him and picked up Scott's dad for a few more runs. I grabbed my video camera, but the footage doesn't do that first run justice. I think Scott toned it down a little while dad was around. Even though I don't have the best moments on video, we had a fantastic afternoon. Scott (and Conor) clearly both love to ski. Many (most) racers take skiing too seriously, and never seem to have the joy of skiing baked into their soul. Scott is a skier first and a racer second, and we both hope that his attitude stays with him as he enters the grind of high-level ski racing.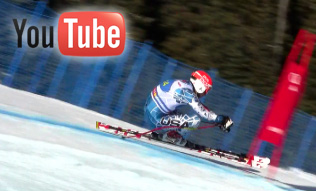 Enjoy the short (~1 minute) video here: http://www.youtube.com/watch?v=dUEwMGM9158
Aspen itself wildly exceeded our expectations. While both Beaver Creek and Aspen are known primarily as ski resorts for the "private jet" crowd, the town of Aspen is a real town, not a fake European-style walking village. Not that there's anything wrong with fake European walking villages, but at Aspen the town was there first, and the ski area followed. The town is rustic, yet has a Prada boutique in the same block as Boogie's Diner. It's also a skier's mountain. The trail map says "none" next to "Easier Terrain." Our impression is that The Beav is where rich people come to be pampered, and Aspen is where they go to ski.