From the Beginning (he said)
by
Kent
9
Dec
2010
"Well, first the Earth cooled, and then the dinosaurs came…"
– Johnny, from the movie "Airplane!"
Many people, both friends and acquaintances, have asked what prompted us to suddenly pack up and move to Colorado ski country for the season. For me it started all the way back in college, at which time I was under the mistaken impression that I was supposed to become a responsible adult after graduating with my engineering degree. I dutifully got my diploma and started work two weeks later. It never occurred to me that it might be OK to take a year off and do some traveling, or spend the winter out west, or do any number of "unapproved" ventures.
It was almost seven years later, during the time of my great sickness (the period of my life when I spent every available weekend chasing good windsurfing conditions up and down the mid-Atlantic), that I woke up one morning, sat up in bed, and said to myself, "hey, I could quit my job and move to Maui to go windsurfing." I remember that event like it was yesterday. After selling my condo, quitting my job (at NASA), and being told that no employer would ever hire me again with a "gap" in my resume, I was on a one-way flight to windsurfing paradise. Three fantastic years (and one wife) later, I was back in the mid-Atlantic working for… NASA. At over double what I was making just three years earlier. If I had stayed I might have gotten my 5% annual raises and maybe a small promotion. As it was, I was making a LOT more than I would have otherwise if I hadn't spent 3 years windsurfing.
Impulsiveness: 1, Conventional Wisdom: 0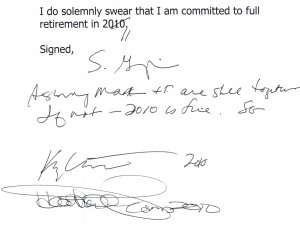 Fast forward to the past few years. Heather and I had always talked about how we both wished we had spent a whole season at a big western ski resort. We weren't even married yet when we agreed that we should do that "someday". And suddenly we were celebrating our 10th anniversary a few years ago and she (wisely) pointed out that "someday" was rapidly becoming "not-likely-anytime-soon-unless-we-get-serious-about-doing-this." We even signed a "contract" with our friend Suzanne as witness that said something to the effect that we agreed the two of us were going to "retire" in 2010 (editor's note: there was drinking involved).
So while we didn't take the whole of 2010 off, or even fully retire, we have at least begun our Unexcused Absence in 2010.