Taking an Unexcused Absence
by
unexcusedabsences
16
Nov
2010
Hello World!
We are taking an unexcused absence.  We love our friends and family, have good jobs and lead a decent life, but are tortured by wanderlust.  A long life of flirting with the edge of the box has increased our desire to seek adventure.  So, here we go!  There is really no excuse, we're just going.
One week from today we will have moved out of our house and rented it out for a year.  Within a few short weeks we will both be working for Vail Resorts at Beaver Creek.  We will start by volunteering at the Birds of Prey, a World Cup Downhill ski race, and then transition into working for the Beaver Creek Ski School (Heather) and the Race Team (Kent).  Where and when will we stop?  Unknown!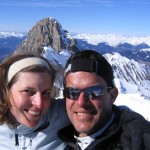 Because we love our friends and family — and yes, we even like our co-workers — we want to keep folks in the loop.  This blog will keep you up to date on our vagabonding ways and philosophical musings.  Chime in electronically or stop in for a visit if you're nearby!
This is our Unexcused Absence.  Join us for the adventure!